One in four adults over the age of 65 fall each year in the United States. That adds up to 36 million falls, and, according to the CDC, those falls result in over 32,000 deaths per year. Those are pretty staggering numbers, and they will continue to rise as more boomers age past 65 years old. If you, or your parents, grandparents, or any loved ones you know are at an age where mobility issues can arise, you should know that APA Medical offers affordable grab bar installation for seniors and anyone else who would like a safer living environment.
In addition to the number of falls and deaths caused by falls, the CDC also lists the following facts about older adult falls.
Every year, about 3 million older adults are treated in emergency departments for injuries caused by a fall
One out of every five falls causes an injury, such as broken bones or a head injury
Each year at least 300,000 older people are hospitalized for hip fractures
More than 95% of hip fractures are caused by falling—usually by falling sideways
Women fall more often than men, and account for three quarters of all hip fractures
If all those statistics make you worry about yourself, or loved ones, they should. You should also know that many of those falls are preventable. Grab bar installation for seniors is not only affordable but can go a long way toward helping to prevent falls in the home.
APA Medical can make your home, or the home of a loved one, a safe living space with safety bars, exterior rails, and grab bars. At just $130 per bar (includes bar plus installation) our affordable grab bar installation for seniors can make a living environment much safer and provide peace of mind for those with mobility issues and their loved ones.
Living in a house that isn't equipped for aging in place can pose a number of risks for your family members. Whether it's installing a professional grab bar for the shower or toilet, outdoor ramp, or an emergency system, we want your loved ones to have as much independence as possible.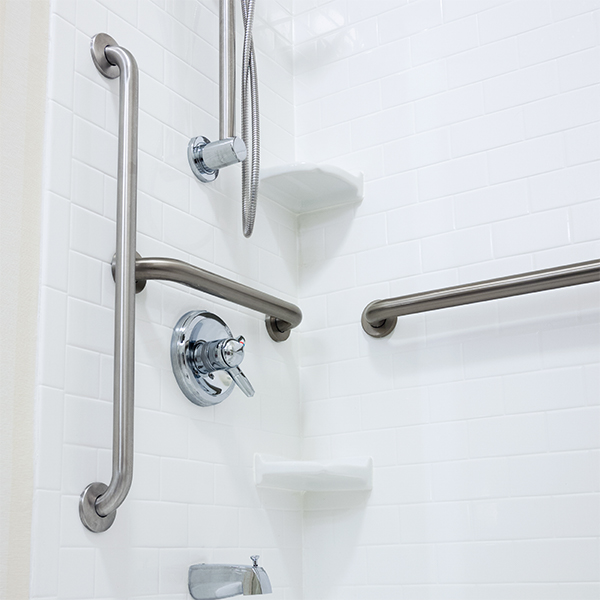 APA offers a variety of products that help to maximize the safety of those who are elderly and those with mobility issues. Grab bars placed strategically throughout your home provide a safer living environment. Grab bar installation for seniors in areas where they are prone to falling like bathrooms, makes them a safer place and allows them to move about knowing they have support in places where they would otherwise be vulnerable to falls.
APA is one of the largest installers of safety wall and grab bars in the Minneapolis and St. Paul area because we offer the best pricing and the best service. Whether you need grab bars for your shower, bathtub, toilet area, or anywhere else in your home, we've got you covered. APA is the preferred installer for many healthcare groups such as Medica, UCare, Health Partners, Blue Cross MSHO programs, and county waiver programs, with nearly 1,000 bars installed annually.
The installation of grab bars and more importantly, where to put them is a very common home improvement project for making a house or apartment safer as older adults age in place.
So, where do you put grab bars in a bathroom? – For maximum safety, one or two grab bars should be installed by the toilet, up to three in the shower and / or bathtub and anywhere else in the bathroom where someone would need help to balance themselves or to stand up. Each case is usually different and for the specifics of your living area, you can consult with APA to come up with a plan that works best for your situation and layout.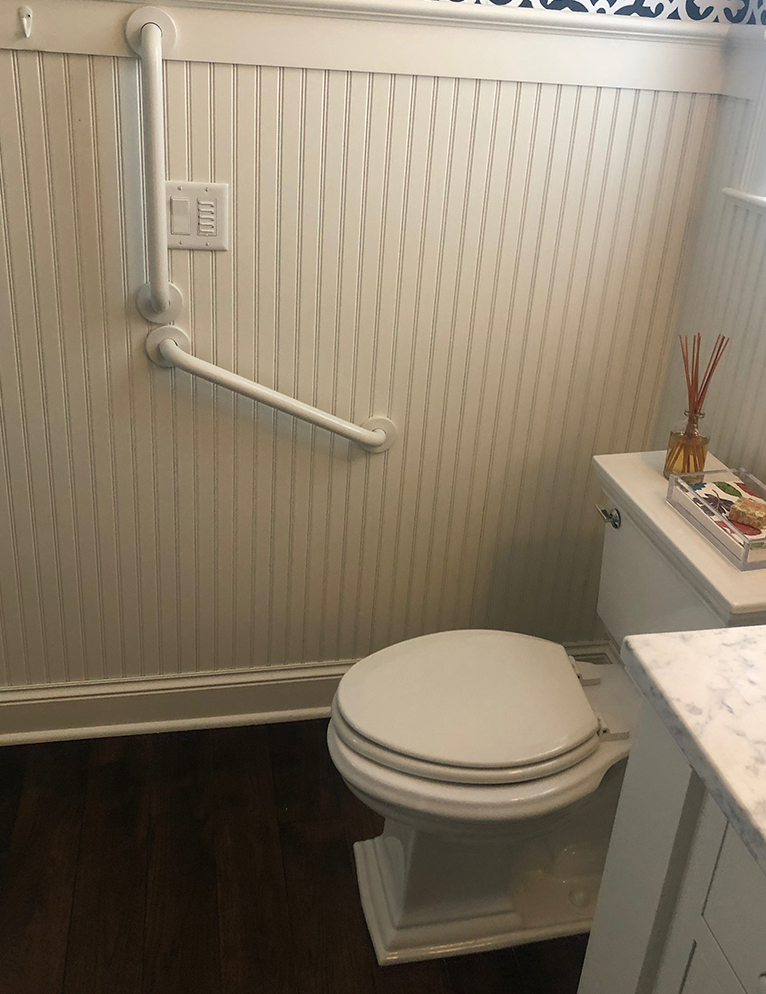 Grab bar installation for seniors around the toilet is a great safety precaution. As we get older, getting up and down off the toilet can start to present challenges as we lose strength in both our arms and legs. Having a bar to grab onto for balance can be crucial in an area that causes more falls than you might think. Not every senior needs help around the toilet, but it's not unusual either, and it's nice to have a bar there when you need it. These bars are also quite helpful for those with arthritis or other conditions that make it difficult to move around.
If there is a long entry way between the front of a bathroom and the sink, it's a good idea to install a grab bar along the wall so that the elderly or those with mobility issues can maintain their balance and make it safely in and out of the bathroom.
Walk-in showers are another spot where grab bar installation for seniors is smart and affordable. It is recommended that there should be a minimum of two grab bars in a standard shower stall. The shower is obviously a slippery area where you should have as many precautions as possible. Depending on the size of the stall and the needs of those using the shower, three and even four bars is not unusual.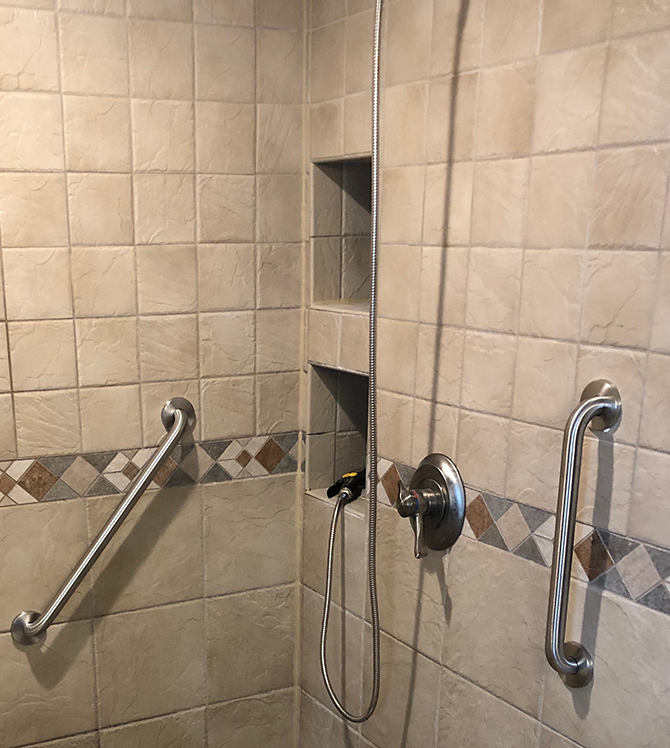 There should be a grab bar installed at the entrance to the shower stall. This would usually be a small bar positioned vertically to make for easier entrances and exits to the stall. A horizontal bar should be installed on the side wall that is a little bit longer to provide balance while using the shower. Another small bar should be positioned vertically near the faucet handles.
Grab bars in the shower are typically installed 33 to 36 inches from the floor, according to the ADA (Americans with Disabilities Act). That is an average number, but we recommend you take into consideration the height and physical capabilities of the people who will be using the shower. Whatever is the most comfortable position for them, considering their mobility and balance, is where you should have grab bars installed in the shower.
At APA Medical, we're experts at grab bar installation for seniors and those with balance and mobility issues. Grab bars and safety railings provide the safety and confidence you want for yourself or your loved ones. APA has been installing grab bars and stair railings for over two decades in our customer's homes, so we understand which areas of the home make you vulnerable and where bars and railings will make you feel safe.