Bathrooms can be dangerous places, especially for those with mobility issues. It's a room that we all spend time in and it's pretty easy to become lackadaisical when performing bathroom tasks that we all do every day. The truth is that a room with sinks, bathtubs, and showers is bound to be wet and slick at times and falls can be very dangerous in a room with so many hard fixtures and surfaces. Being aware of the dangers can help you prevent accidents and falls – not just for you but also for your entire family. Because your bathroom is a moist and slippery environment, accidents may lurk when you least expect it.
Both getting in and out of the shower, standing or sitting in a bathtub, and even washing up after a toilet break can all pose serious risks of injury for those with mobility issues. The Centers for Disease Control and Prevention, says that more than three million older Americans are taken to the emergency room every year for injuries from falls, 80 percent of which take place in bathrooms.
One of the best ways to mitigate slips, falls, and accidents that can break bones, tear ligaments, or even be fatal, is to install grab bars or safety bars for bathrooms. APA Medical offers a wide variety of wall safety bars for bathrooms to make life easier for those with mobility issues. Wall bars can be mounted in and outside your shower, and by your toilet, where safety is most needed. APA can install on fiberglass, sheetrock, wood, cement, and tile.
Install grab bars in showers and tubs and next to toilets so you don't reach for towel bars, sliding glass doors, or other unstable fixtures.
Types of Safety Bars for Bathrooms
Safety bars and grab bars help people maneuver around the bathroom safely. A slippery floor or wet tub increases the risk of falling, but properly installed and conveniently located safety bars for bathrooms can save you from serious injuries.
While safety is always the biggest concern when it comes to safety bars for bathrooms, there is no need to sacrifice aesthetics. APA Medical offers a wide variety of safety bar types, finishes, and designs, and they're also available in permanently affixed or suction-cup styles to accommodate different needs. Installed bars are meant to bear someone's full weight, while suction cup bars are intended to just help with balance.
Straight Bars
The most basic grab bar—straight bars—come in various lengths, materials, finishes and colors. As long as it is installed directly into the wall, it offers excellent support, making it ideal for those with stability issues. Straight suction cup grab bars can also provide stability, but they are not meant to prevent a fall from happening or to serve as a pull bar after a fall. Suction cup grab bars are ideal for those who live in a condo or apartment where fixed installation isn't an option.
APA Medical offers stainless steel grab bars with a secure mount design that allows for secure and lasting installation into any stud at any angle. The bars support up to 500 lbs. and are in compliance with the American with Disabilities Act specifications. White grab bars with the same specifications are also available if that fits better with the style of your bathroom.
Suction Safety Bars
APA also offers suction safety bars for bathrooms that help prevent dangerous slips and falls by providing sturdy support and confidence in and around the tub and shower. These suction wall bars install instantly and feature a grip area with a ribbed surface for extra help with grip.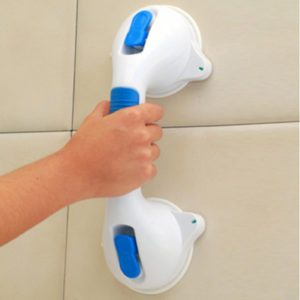 Floor to Ceiling Poles
Floor-to-ceiling poles are ideal for any room and have adjustable height especially effective for large bathrooms with open space. Because they use jackscrews to leverage tension, most floor-to-ceiling poles require ceilings and floors to be flat and level to remain stable and secure.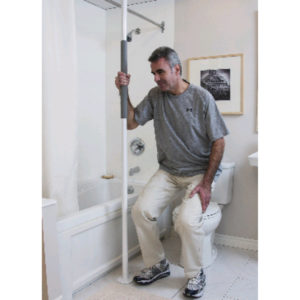 APA is proud to offer the SuperPole as a great solution as a safety bar for your bathroom. Innovative and adaptable, the SuperPole is the industry leader and can be easily installed between any floor and ceiling by simply turning a jackscrew. This floor-to-ceiling pole features a grip that provides comfort and an improved surface to grab onto. These poles are ideal for helping those with mobility issues sit or get up from a toilet seat, or to provide stability when getting in or out of a bathtub.
With the simple addition of the SuperBar, the SuperPole transforms into an even more versatile product with both horizontal and vertical support. Additionally, with eight locking positions around the SuperPole (one every 45 degrees), you can stay closer to your support as you move. Push, pull, or lean on the horizontal SuperBar, it offers support that is tailored to your needs.
Security Pole
Also available from APA is the Security Pole from Sander. The Security Pole makes it easy to stand from a couch, bed, or toilet. It's tension mounted, so you can place it anywhere in the home without any screws or bolts. And like all our products, it blends in with look of your home to increase your independence without intruding on the comforting feeling of your home.
HealthCraft's PT Rail is the perfect safety bar for your bathroom. This toilet safety wall bar provides support and comfort during transitional movements. Unlike other bathroom safety rails, the PT Rail is designed with an innovative offset rail to avoid wrist strain when you're sitting down or pulling yourself up from a seated position. The PT Rail is also easily stored; simply lift the rail until it is flush against your bathroom walls. The toilet safety rail also features strong compression hinges to keep the rail from falling, giving you support and security even when the rail is halfway up.
According to the National Institute on Aging, one-third of seniors—those aged 65 or older—fall each year, and 80% of those falls occur in the bathroom. Seniors and anyone else with mobility issues can make their bathrooms more accessible and safer with the installation of safety bars.
You can see APA Medical's full selection of safety bars for the bathroom here.