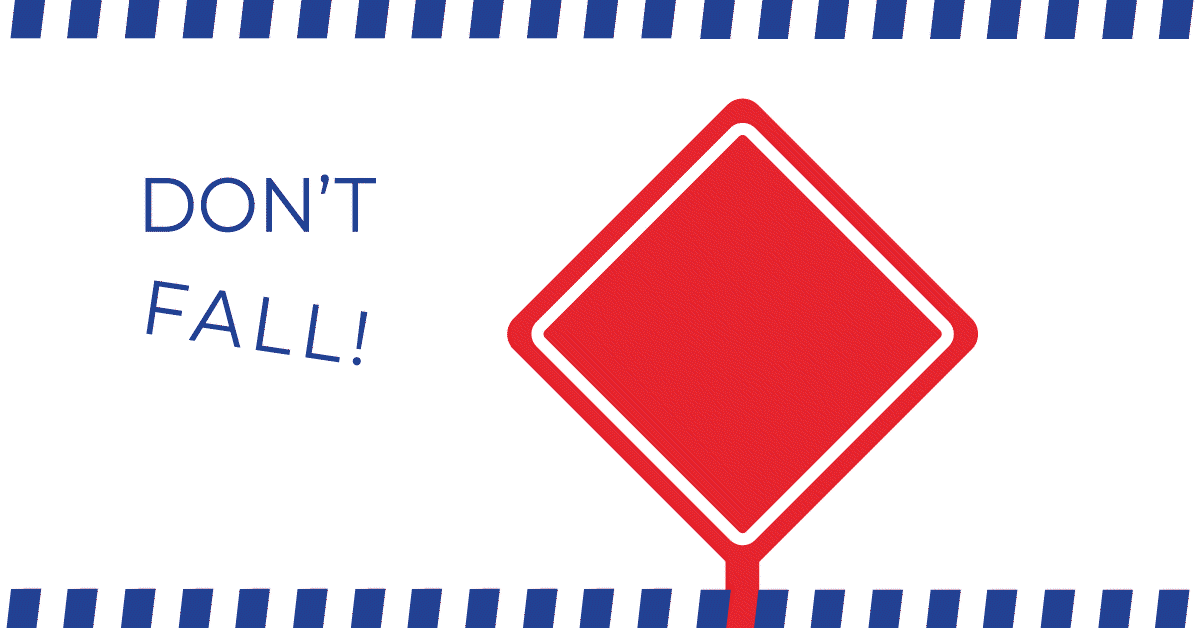 According to the CDC, falls are the leading cause of fatal and non-fatal injuries for adults aged 65 or older. Of the 2.3 million injuries that occur each year due to falls, just under 700,000 of them require hospitalization. Common injuries include hip fractures, lacerations, and head traumas.
Among older adults, falls are the leading cause of traumatic brain injuries (TBIs) and fractures. But it's not just the injured who walk away with scars. As they age, many seniors develop an immobilizing fear of falling. If left untreated, this can have dire consequences, including a debilitating decline in mobility. A corresponding decrease in fitness further increases a senior's risk of falling while also increasing the odds of isolation and depression.
Anyone with mobility issues needs to have strategies for fall prevention as part of their daily routine. As we all know, you can take all possible precautions, but that doesn't mean you'll never fall. But having strategies for fall prevention will give anyone with mobility issues the best chance at avoiding falls and the injuries that come with them.
Start in the Bathroom
When mapping out good strategies for fall prevention, the bathroom is the best place to start. Up to 80% of falls in the home occur in the bathroom. These injuries can range from minor scrapes and bruises to broken bones, head injuries, and spinal cord injuries.
Anyone with mobility issues should immediately put non-slip mats and grab bars in their bathrooms. APA Medical offers bathroom aids, knowing that bathrooms can be hard to navigate because of the slick, wet surfaces and hard fixtures. Our bathroom safety products are designed to help you safely navigate the room from bath seats to grab bars.
Falls often occur when people with mobility issues get in and out of the tub or shower or stand up after using the toilet. Place a non-slip mat or decals on the shower or bathtub floor and a non-slip rug on the floor outside the tub or shower. Non-slip mats – rather than fluffy rugs – are also the way to go in front of the toilet and the sink.
Other products that are great strategies for fall prevention in the bathroom include bath and shower benches, toilet seat risers and safety frames, rolling shower chairs, and transfer benches.
Use a shower chair so your senior can sit while showering and prevent slips and falls. Ensure the chair has a non-slip seat and rubber tips on the feet so it won't slide in the shower or tub.
For those who need assistance stepping out of the tub, a bath or transfer bench can help. The bath bench extends over the side of the bathtub with two legs resting on the floor. Users can sit on the bench, swing their legs over the side of the tub, and more safely stand.
Install a raised toilet seat, which raises the seat height by three to four inches to reduce the amount of effort needed to sit and stand when using the toilet.
Regular cleaning of the bathroom is another good strategy for fall prevention. Soap scum and build-up from condensation can leave surfaces slippery. Scrub tubs, showers, grab bars, and mats regularly to prevent a slick residue build-up.
Use a nightlight or motion-sensor lighting to ensure seniors have adequate light for nighttime visits to the bathroom. Use a nightlight in any hallway along the path to the bathroom from the bedroom or living areas.
Mobility Equipment
For anyone with mobility issues, a great strategy for fall prevention includes a wide variety of mobility equipment.
Staying mobile and independent is one of the biggest keys to successful senior living. APA Medical offers a wide array of mobility equipment for the elderly and others who need help getting around. Our wheelchairs, walkers and other elderly mobile equipment help seniors feel safer and more secure as they move, which helps both their physical and emotional wellbeing.
APA has a large selection of mobility equipment, so you're able to find the device that works best for your particular needs. Wheelchairs, walkers, canes, rollators, etc., are all available in different options to best serve your individual needs. APA Medical allows seniors and anyone who needs mobility equipment to find the right solution for their mobility needs.
Your Fall-Prevention for People with Mobility Issues Checklist
A few simple safety measures are great strategies for fall prevention and instill a sense of independence in seniors and anyone else with mobility issues.
Trip-proof your house for all obstacles, removing wires, cords, rugs, and other clutter to ensure safe passageways throughout the living space.
Add non-slip mats and grab bars in the bathroom where many falls occur.
Install adequate lighting in every room and nightlights in areas like the bedroom, bathroom, and hallways.
Encourage a weight-bearing exercise routine that focuses on building balance, strength, flexibility, and coordination. The person's physician may be able to refer you to a physical therapist. Or, check with local hospitals and seniors centers for fitness classes for seniors.
Sturdy footwear is a must! Look for shoes with nonskid soles, and avoid walking around in socks and slippers, which can cause slips and falls.
Despite even the most rigorous precautions, falls do occur. Make sure emergency numbers are near every phone and that phones are placed close to the ground in case your loved one is unable to get up. Or, consider investing in a medical alert device. These devices can not only ensure that help is on its way when you need it but having them can also deliver positive peace of mind.
If you have any questions about finding the right strategies for fall prevention for yourself or a loved one, don't hesitate to give us a call at APA Medical to go over all of your concerns.