Mobility scooters are becoming more and more prevalent as people are seeing how much of a benefit they are for those who have trouble walking and moving around and people with disabilities. Power mobility scooters let people reclaim parts of their lives and allow them to participate in many of the things that losing their mobility had kept them from doing.
Many people who develop mobility issues and those with disabilities get frustrated by losing their ability to get around and to easily participate in day-to-day activities like grocery shopping, family outings, or attending sports events.
The top four benefits of owning a mobility scooter include:
Mobility
The most obvious benefit of a mobility scooter for the elderly and people with disabilities is right there in the name! Scooters make it far easier to get around, whether it's around the house, in the neighborhood, or at the local grocery store. Most places are now equipped with access ramps making it easy to get in and out. Most public transport is now able to accommodate scooters if you are traveling distances.
Independence
A great benefit of a mobility scooter is how easy it is to get from place to place, meaning you can live life independently. A mobility scooter gives you the option to get out and about, something that some individuals lose the confidence to do on their own. Even simple things like traveling to the local shop or park can make a huge difference in your life and wellbeing.
Comfort
Let's face it, people who suffer from mobility issues are often uncomfortable if they have to stand in lines at the grocery store, DMV, or at a grandchild's ball game.  A great benefit of mobility scooters is their ability to make your day-to-day life more comfortable. Standing around in lines and in crowds can be tiring and end up leaving those with less movement in pain. With a scooter you know you always have a place to be comfortable.
Injury Prevention
Mobility scooters are pretty simple and easy to use. Once sat down, you can relax and head to your destination. This reduces the risk of injury from over-exertion. Some people who aren't steady on their feet may end up losing their footing in a crowd situation. Sitting in a mobility scooter, you know you are comfortable and safe in any situation. They also give loved ones and family peace of mind, knowing they don't have to constantly worry about mobility challenges.
At APA Medical, we offer a wide variety of mobility scooters for the elderly and people with disabilities.
Pride Victory 10 Mobility Scooter
The Victory 10 series is very popular, both the 3-wheel and 4-wheel versions.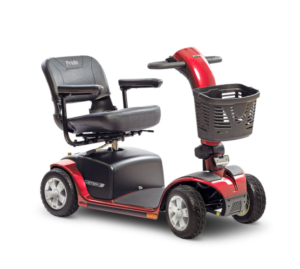 The Victory 10 4-wheel features:
400 lbs. weight capacity
54" turning radius (42" on the Victory 10 3-wheel)
Up to 16 miles per charge
Exclusive stylish, lightweight, non-scuffling, black, low-profile tires
Standard front basket
Exclusive one-hand feather-touch disassembly provides the ultimate quick transport system
Long-lasting, maximum-intensity LED headlight offers optimal pathway illumination
Easy access tiller-mounted charger port
The ZT10 FDA Class II Medical Device Scooter
Imagine your perfect scooter. A sleek, contemporary design that can traverse the most beautiful, out-of-reach places. Imagine that same scooter in your home, moving seamlessly through doors and down hallways. Your imagination becomes reality with the ZT10, a scooter that combines powerful dual motors and two-wheel drive with revolutionary turning technology. Let the ZT10 carry you to places unknown. Pride FDA Class II Medical Devices are designed to aid individuals with mobility impairments.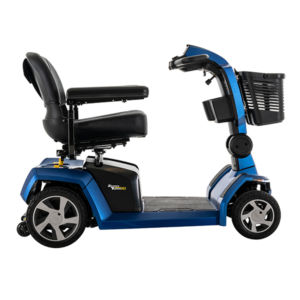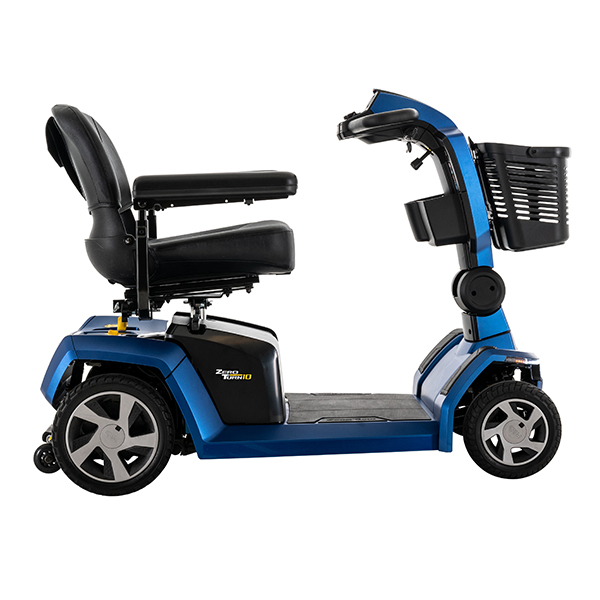 The ZT10 features:
400 lbs. weight capacity
43" turning radius
18 miles per charge at 400 lbs., 24 miles per charge at 200 lbs.
Pride's patent-pending, intelligent-turning, iTurn Technology provides 4-wheel stability with 3-wheel maneuverability
Three-speed control lets you adjust your speed when moving from indoor to outdoor driving
Easy access tiller-mounted charger port
USB charger built into the tiller for convenient charging of smartphones and portable devices
Standard large basket
Full LED light package includes LED headlights and rear lights with sequential turn signals and a puddle light under tiller
The LiteRider Envy Power Wheelchair
The world's lightest, most transportable and maneuverable power chair is the Golden LiteRider Envy GP162! Available in limited colors Envy Green, Satin Silver, Solar Flare Orange and Sunburst Yellow, as well as our standard Paradise Blue and Cherry Red.
Designed with the end-user and their caregivers in mind, the LiteRider Envy can be disassembled in just seconds to easily fit in the trunk of virtually any car. The heaviest piece weighs only 35 lbs to easily be lifted into the back of a vehicle. The LiteRider Envy offers a comfortable ride all day long, with a stadium-style seat and a generous footplate, plus bigger 22-amp hour batteries so you can go further than ever before!
Features include:
300 lbs. weight capacity
26" turning radius
Operating range up to 15.5 miles
Comfortable, full-size stadium-style seat
Two 22Ah batteries (now standard)
APA Medical is proud to offer a wide array of mobility scooters for the elderly and people with disabilities. Mobility scooters can help people gain parts of their life back that have been taken away by age or mobility issues. Consult with APA Medical to see what mobility scooter will work best for your needs!