People are living longer than ever – the life expectancy of men in the United States has gone up 6.3 years since 1980 – and more and more elderly people and those with mobility issues are looking for ways to remain independent while staying connected to friends and family.
One of the best ways to do that is with a mobility scooter. Mobility scooters offer more than just convenience, they can improve the quality of life for older adults and those with mobility issues who otherwise could not leave home.
If you or a loved one are losing the ability to walk, a mobility scooter can provide a great way to get around and keep you living independently. At APA Medical we offer nine different mobility scooters, each with its distinct advantages. How do you know which mobility scooter to buy for everyday use? First and foremost, you should speak with an expert at APA Medical who will assess your needs and living conditions and help come up with a few options for you to choose from.
Who can benefit from a mobility scooter? The answer is pretty simple – anyone with mobility issues, such as weak legs or knees or general unsteadiness on their feet. The best candidates are people living in senior facilities, assisted living, or anyone at home who can't get around as well as they'd like. Mobility scooters can be a great asset for things like going to grandchildren's soccer or baseball games or trips to the grocery store.
Benefits of Mobility Scooters
Knowing what the exact benefits of a mobility scooter are can help you when trying to determine which mobility scooter to buy for everyday use. The main benefits include:
Independence – A great benefit of a mobility scooter is how easy it is to get from place to place, meaning you can live life independently. A mobility scooter gives you the option to get out and about, something that some individuals lose the confidence to do on their own. Even simple things like traveling to the local shop or park can make a huge difference in your life and wellbeing.
Injury Prevention — Mobility scooters are pretty simple and easy to use. Once sat down, you can relax and head to your destination. This reduces the risk of injury from over-exertion. Some people who aren't steady on their feet may end up losing their footing in a crowd situation. Sitting in a mobility scooter, you know you are comfortable and safe in any situation. They also give loved ones and family peace of mind, knowing they don't have to constantly worry about mobility challenges.
Mobility – The most obvious benefit of a mobility scooter for the elderly and people with disabilities is right there in the name! Scooters make it far easier to get around, whether it's around the house, in the neighborhood, or at the local grocery store. Most places are now equipped with access ramps, so it's easy to get in and out. Most public transport is now able to accommodate scooters if you are traveling distances.
Comfort – Let's face it, people who suffer from mobility issues are often uncomfortable if they have to stand in lines at the grocery store, DMV, or at a grandchild's ball game. A great benefit of mobility scooters is their ability to make your day-to-day life more comfortable. Standing around in lines and in crowds can be tiring and end up leaving those with less movement in pain. With a scooter you know you always have a place to be comfortable.
Below is a list of all the products we offer at APA Medical and their included features to help you decide which mobility scooter to buy.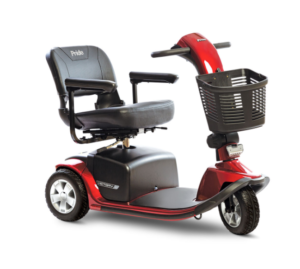 Versatility knows no bounds with the Victory® 10. Enjoy simple disassembly with one hand and drive up to 16 miles on a single charge. You won't miss a beat with this scooter, which includes a bright LED headlight. Anything is possible with the Victory 10!
The Victory10 is a very popular mobility scooter choice, with a 400 lbs. weight capacity and a 42-inch turning radius. The long-lasting LED headlight offers optimal pathway illumination.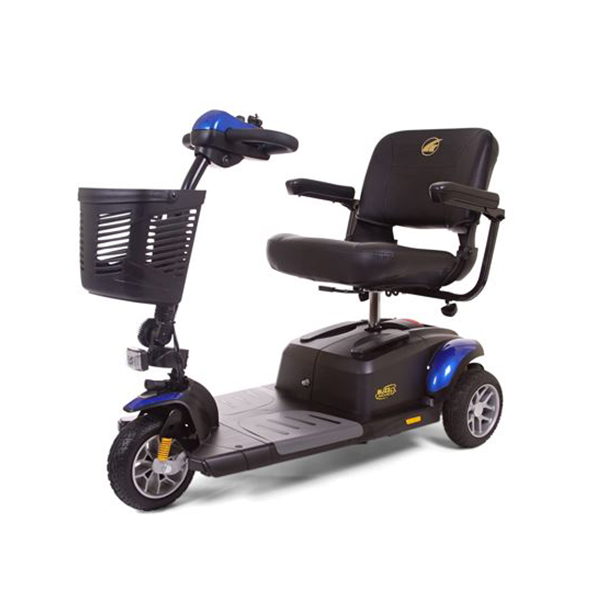 The Buzzaround EX offers more standard features to make your riding experience better than ever. Featuring a 350 lb. weight capacity, a wraparound Delta Tiller, a new LED battery gauge, a wireless U1 battery, and a new ultra bright LED angle-adjustable headlight, the new Buzzaround EX is also longer to offer more foot room, with a great turning radius. The Buzzaround EX disassembles in seconds with just 4 easy steps making transporting it from one destination to another a breeze!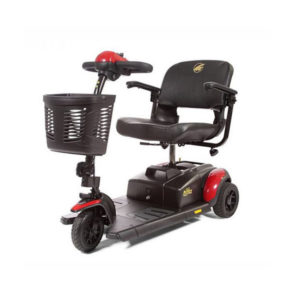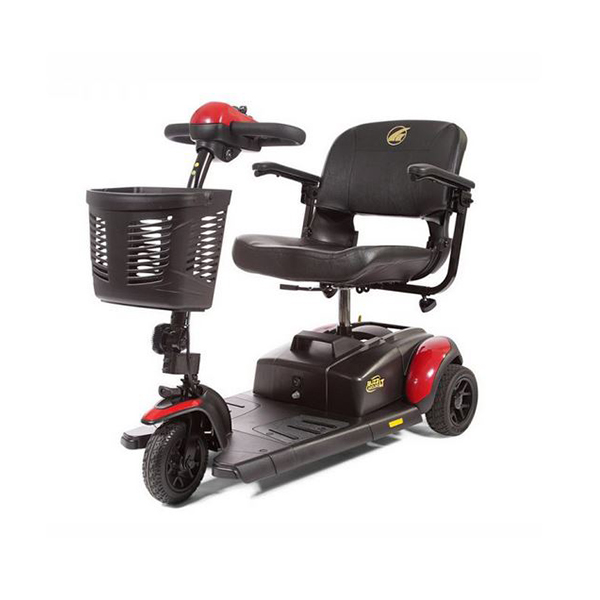 This Buzzaround LT scooter is the smallest, lightest, and most portable Buzzaround scooter, however, it has a weight capacity of 300 lbs. and increased foot room. The new Buzz LT also has a charger port in the delta tiller, a new hard plastic rugged basket, updated black wheels and a plush, padded seat. Additionally, the Buzz LT comes with a lifetime warranty on the frame, a two-year warranty on the drive train and electronics, and comes standard with a one-year warranty on the batteries. Enjoy its tight indoor maneuverability and smooth outdoor use with 3″ of ground clearance!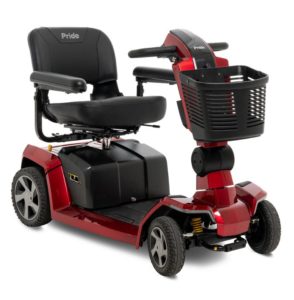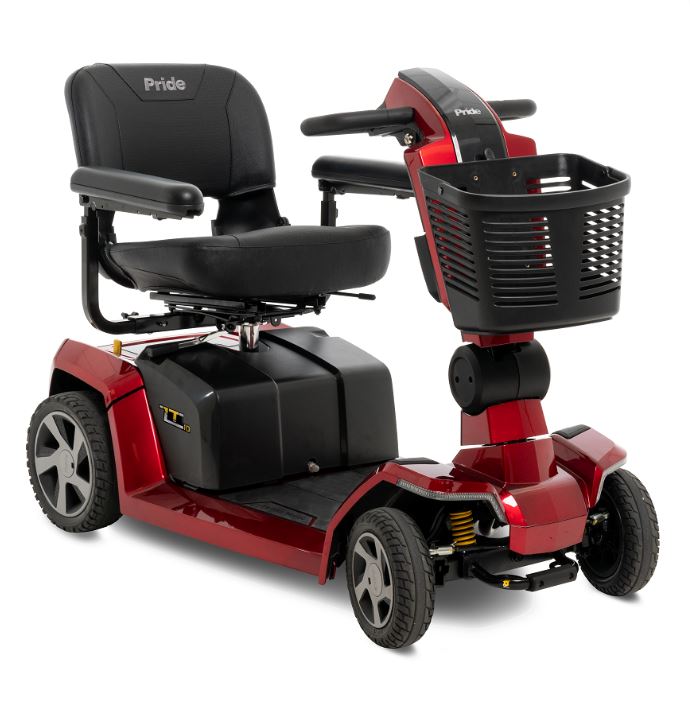 The 4-wheel version of the Victory10 offers a 54-inch turning radius, with easy disassembly and can drive up to 16 miles on a single charge.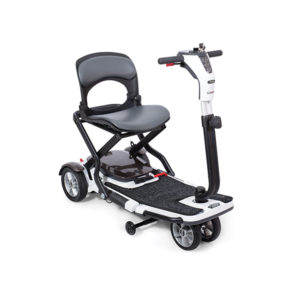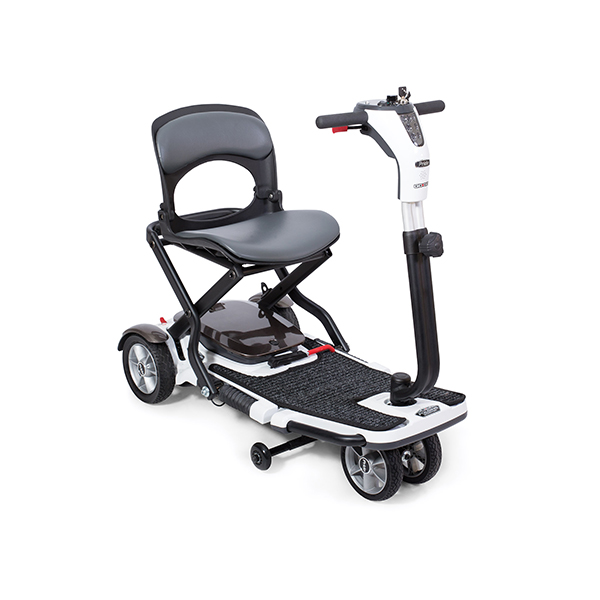 With the Go-Go® Folding Scooter, the world is at your fingertips! With a unique folding design, this scooter folds in just three simple steps and fits easily in a closet, corner or vehicle trunk! Enjoy full lighting and speeds up to 4 mph. Pride FDA Class II Medical Devices are designed to aid individuals with mobility impairments.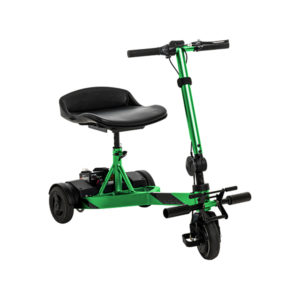 Journey far and wide with the iRide ™! This ultra-lightweight scooter is super portable and perfect for traveling. Equipped with both a manual hand brake and supplemental foot brake, the iRide delivers a safe and comfortable ride!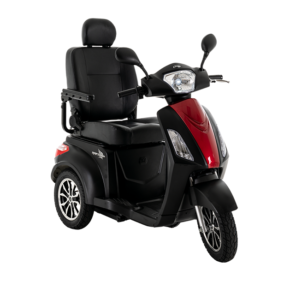 When you extend the borders of your world with the Raptor mobility scooter, unreachable places suddenly become accessible again.
With top speeds of up to 14 mph, a full Comfort-Trac Suspension system, and sturdy pneumatic tires that glide smoothly over varied terrains, you might find yourself asking: "Did I just buy a mobility scooter, or is this really a moped?"
Indeed, standard features on the Raptor feel a little extra for a mobility scooter. With dual mirrors, LED headlights, brake lights, and directional lights, the Raptor offers on-the-go safety features to make sure motorists and other traffic can spot you from a distance.
Easily one of Pride Mobility's most powerful scooters, it has a weight capacity of up to 400 pounds, a regenerative braking system, and an LCD digital display.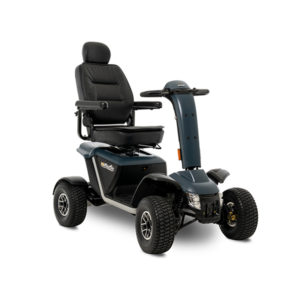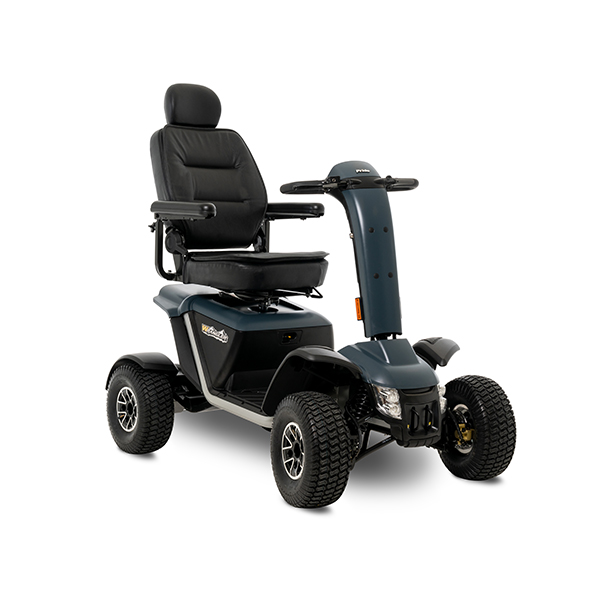 Forge a new path with the Wrangler®, an aggressive, outdoor scooter designed for extreme and rugged conditions. With powerful suspension, bright lighting and dual hydraulic brakes, this beast of a scooter is a powerful force.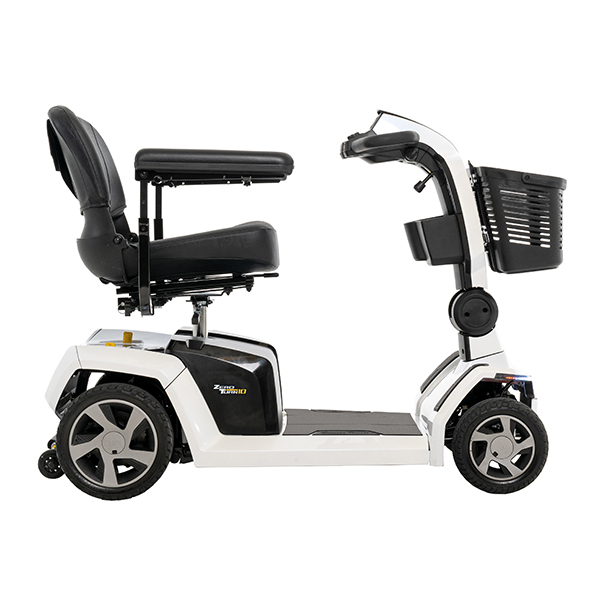 A sleek, contemporary design that can traverse the most beautiful, out-of-reach places. Imagine that same scooter in your home, moving seamlessly through doors and down hallways. Your imagination becomes reality with the ZT10, a scooter that combines powerful dual motors and two-wheel drive with revolutionary turning technology. Let the ZT10 carry you to places unknown. Pride FDA Class II Medical Devices are designed to aid individuals with mobility impairments.
Two things to consider when choosing a mobility scooter are what are your physical challenges and where you will be using the scooter. If you or a loved one might be in the market for a mobility scooter, please call us at APA and we will be happy to go over what your best options are considering your particular situation.