"Aging is an extraordinary process where you become the person you always should have been."—David Bowie
Aging is indeed an extraordinary process, but unfortunately, not everything that comes with growing older is beneficial. As we grow older, many of the muscles in our body don't work quite as well as they once did. When the muscles in and around the blatter don't work the way they should, urine, which is stored in the blatter, can leak. Incontinence becomes an unfortunate fact of life for many. APA Medical is happy to offer a wide variety of incontinence supplies to help make everyday living more comfortable and stress-free.
APA Medical offers a monthly re-order program that lets you not worry about having enough incontinence products on hand—you're able to sign up to have continuous monthly deliveries so you'll never forget to order, or be without incontinence products when you need them. We also understand the sensitive nature of having to use incontinence products—rest assured our delivery vehicles are very discreet and won't bring any unwanted attention to your home.
At APA Medical, we are always on the lookout for better ways to serve our customers, whether it's by adding products or making it easier for our customers to get our products. We are happy to add several Attends incontinence products to our offerings.
Attends Premier Unisex Adult Underwear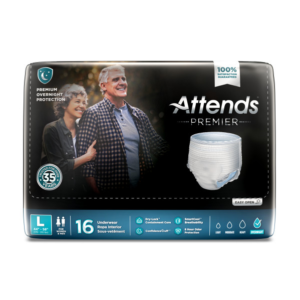 Designed to help you or those you care for manage heavy to severe urinary or fecal incontinence. Attends brand is famous for using some of the softest and most absorbent materials available—allowing you or your loved one to feel fully confident of protection both day and night. Attends underwear provides full-fit protection and ultra-plush design to provide underwear that fits comfortably in all the right areas. Users are able to take the fear out of enjoying things that incontinence might have scared them off from—taking trips, long walks, going out to dinner with friends and family—these are all activities that can be enjoyed wit the confidence supplied by Attends Premier Pull-ups Underwear.
Attends Premier Disposable Underpad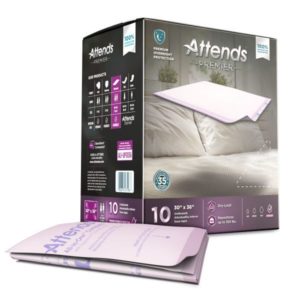 APA Medical is happy to add this 31×35 XL chuck to our inventory of products (unavailable for online orders at this time, but please call APA to place an order). Attends has included a high-strength, breathable back sheet, which allows for use on low-airflow mattresses and repositioning users up to 350 pounds. Made of highly absorbent materials to help keep skin dry and furniture protected.
Attends Premier Underwear Tabbed Briefs Unisex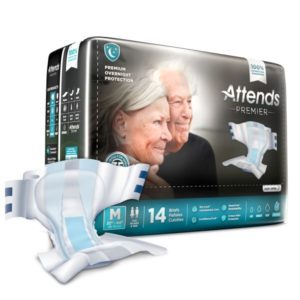 High-rise, full-fit protection underwear with ultra-plush design provide 100% breathability to improve comfort and reduce skin irritation. These Attends are our most absorbent underwear ever and for leak protection for confident days and dignified nights.
Let's face it—incontinence can be an embarrassing affliction. Hearing over and over that it affects millions of men and women of all ages doesn't make it any less frustrating for each particular person. At APA Medical we understand that frustration and hardship, and we provide products that make living with incontinence much more manageable and stress-free. Find products that work best for you and then set up a monthly delivery from APA, so you never have to worry about running out, or forgetting to place an order.
As we quoted at the top of this blog—aging is an extraordinary process, and at APA Medical, we aim to keep that process as comfortable, stress-free, and dignified as possible. Be it through your medical assistance benefits, or through one of the major credit cards we accept, APA can help facilitate you receiving the product(s) you need in the most timely, consistent and discreet fashion possible. Please call us for more details at 612-389-9034.