Incontinence Delivered for Your
Convenience and Personal Preference
Incontinence becomes an unfortunate fact of life for many individuals. At APA Medical we offer a wide variety of incontinence supplies to help make everyday living more comfortable and stress free. We also offer a personal and discreet home delivery service, as we understand the sensitive nature of having to use incontinence products.

ADULT WIPES
Incontinence is simply a reality for many—adult wipes offer comfortable and sanitary clean up.
BLADDER PADS
APA Medical offers a variety of bladder and booster pads. Our large array of bladder pads are designed to make life with incontinence more comfortable and manageable.
CHUCKS
Disposable bed pads with extra-heavy absorbent polymer and odor-controlling agent that provide maximum incontinence protection and neutralize odors.
HYGIENE & APPLICANTS
A variety of hygiene creams and applicants to make living more comfortable and sanitary for those who suffer from incontinence issues.
EXAM GLOVES
We offer multiple-use exam gloves for a variety of bathroom and hygiene issues.
PULL-UP UNDERWEAR
Incontinence issues can be uncomfortable and inconvenient for many. We offer pull-up underwear in three varieties: men, women and unisex.
TABBED BRIEFS
We offer tabbed briefs for those with incontinence issues. These disposable tabbed briefs offer heavy absorbency and skin-smart fabric made with aloe and chamomile for skin wellness.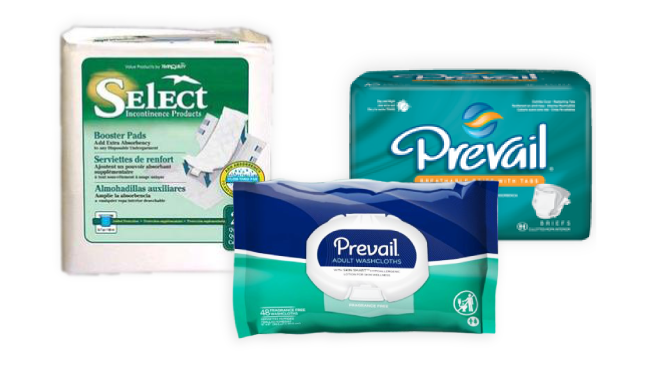 Many of APA's incontinence products are provided at no cost to eligible Medicaid recipients. Depending on your needs and eligibility, you may be able to receive pull-up underwear, adult diapers, bladder-control pads, booster pads, liners, male guards and chucks through your insurance. An APA Medical representative will work with you to verify your eligibility.
Call APA Medical today at 612-722-9000 to have one of our representatives help you figure out your benefits and choose the products that are right for you.