Handicap Ramps for Homes in the Minneapolis and St. Paul Area
With two decades of experience and hundreds of handicap ramps for homes installed and serviced in the Minneapolis and St. Paul area, APA Medical are experts at configuring, quoting, and installing the perfect ramp for every living environment.
Purchase or Rental Options
Our ramps can be purchased to serve your home accessibility needs for years to come. At APA, we're empathetic to the fact that you may not know how long you'll need a ramp. Injuries and the aging process are unpredictable and vary from case to case. If you only need an accessibility ramp for a short time—no problem, our ramps can be rented for short or long-term use. Your first month rental can be applied to your purchase if you determine that the ramp will be needed more long term.
Economical
At APA Medical we pride ourselves on offering the best products at the best prices. With ramp options available in aluminum and steel, we can meet your accessibility needs while fitting your budget. We accept most major credit cards. We also accept Care Credit, for those who would like to finance their purchase.
ALUMINUM SERIES
Lifetime Warranty!
BEST

—Lifetime warranty on the aluminum ramp series
Highest coefficient of friction for maximum traction
Powder-coated color options available
100% maintenance free
800 lb. weight capacity
Easy installation—installs in hours, not days
No rusting, no rotting, no splinters
Multi-weld fabrication process ensures less deflection of ramp surface
Environmentally responsible—100% recyclable
Unique welded cone-mounted hand rail design is more rigid than standard side-bolted handrails
STEEL SERIES
3-Year Warranty
GOOD

—3-year warranty on the steel ramp series
All components are coated with a durable powder-coated finish – far more durable than painted steel ramps
Textured finish for slip resistance
800 lb. weight capacity
Modular design to allow virtually any configuration
ADA-compliant 36" width
Easy installation—installs in hours, not days
Unique welded cone-mounted hand rail design is more rigid than standard side-bolted handrails
Featuring Modular Access Ramp Systems
by National Ramp
National Ramp's modular ramp systems feature the safest walking surface in the industry and are affordable choice for accessibility solutions. Our modular ramp systems can be installed in a few hours, bringing freedom to your door step immediately. Permanent or temporary ramp systems are now available in 3 finishes including Silver, Forest Green, and Tuxedo Black. This option allows you to complement your home's exterior colors as opposed to the limits of only one color choice. If safety concerns have led you to look for a ramp, why not choose the safest walking surface, and have a color choice, too?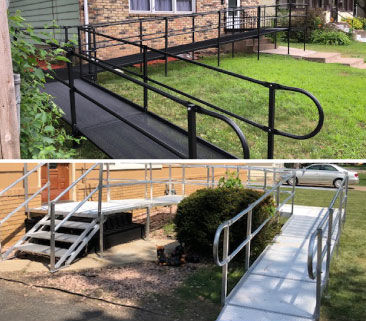 Modular Ramp Benefits
May be purchased or rented

An economical, yet enduring solution

Custom configurations available

Lifetime warranty on aluminum ramps

3-year warranty on steel ramps

Incremental leg adjustments

Clean, modern appearance
Additional Benefits
Quick drying ramp surface with superior traction

100% maintenance-free

Ramp capacity up to 800 pounds

Simple installation in hours

Reuse and recycle
Call now to get a FREE quote!
612-722-9000
Often we can give you a general idea of cost over the phone—but we will also come on site to make measurements and determine the best option for your ramp system. We can then get you a final cost based on your needs. There is never any obligation to purchase a ramp from APA.